Kenyan socialite, Huddah Monroe has called for other Africans to boycott Nigerian music.
The former contestant of Big Brother Africa, made a post on her snapchat claiming that
"Nigerians don't even listen and support other African artists music unless it's collaboration which artists from other countries pay so much for them to be in their songs."
This claim by controversial lady is in line with Shatta Wale's rant about the secondary role artistes from other African countries are made to play in the continental music scene.
Huddah Monroe, in her post, added that
"we the rest of Africa should just boycott (their music)."
Do you agree with her claim. Please share your thoughts below.
See picture below.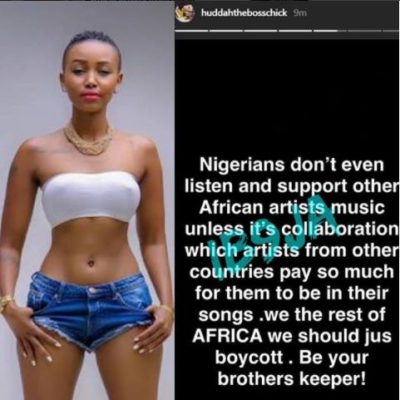 NGR News blog is for every happenings from Nigeria and every intresing facts around the world.
For your news alert, you might also subscribe to our newsletter @ NGR News.